Eight Bells
Jim Liston
Jim Liston passed away on June 28 after a long battle with pancreatic cancer.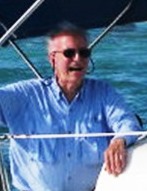 Jim was a long-time mainstay of the Venice sail racing community, including a lengthy stint as the Venice Sailing Squadron (VSS) racing Fleet Captain and the Sail Fleet Captain of the Venice Yacht Club (VYC). He had also served as Secretary on the board of the Sarasota Bay Yachting Association, and on the board of West Florida PHRF. Before moving to Florida he had been an active sailor in Oklahoma and other places in the Midwest as well as having been the racing Fleet Captain in at least one of his previous clubs.
He sailed, and raced, a J-105 "Cat's Meow" for many years and, more recently, VYC's Ranger 33 "Joy" - so aptly named, with Jim on board. Jim was a real gentleman and many have benefited from having known him and from sailing with and against him. He will be sorely missed.
At the request of family, the funeral and memorial is being delayed until October 28, 2017 at 11am at Trinity Presbyterian Church in Venice.